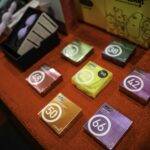 Condoms and Everything You Need to Know About It
July 12, 2023
It's our third date, we've been on food trips & only feeding our tummies for the past 2 trips. Now it's time to feed the brain & we're going to Pusat Sains Negara!
Did we grow another brain cell or 2 after the journey? Let's try to use more fancy "science words" for this blog episode & you be the judge for it? 
Here's what to "observe" when you get there!
https://www.youtube.com/watch?v=XHOmBV4js_E
Operation Hours: Saturday – Thursday, 9 am – 5 pm (Closed on Fridays and Hari Raya) 
Tips: Parking is free & within the building compound, but there is more parking in a nearby bus parking lot. It's a little distance to walk toward PSN but the whole walk there is covered!
Prices:
Adults aged above 13: RM6
Kids aged 7-12: RM3
Golden Age (above 55): RM3
Kids below 6 years and OKU: FREE
ONWARDS TO THE MAIN EVENT: PUSAT SAINS NEGARA
Scenic Route
We parked at the bus parking so we saw an A-for-effort attempt at a mini dinosaur park below the pedestrian bridge. You just need to take a quick detour down the stairs to go check it out.
Dinosaur nerds will find it a blast (we suppose) but under the Malaysian heat? You won't really last long when your skin starts burning.
There's also a small butterfly garden along the way that you can visit for free!
Verdict: 3/5  ⭐⭐⭐
As for PSN? This rainbow bad boy hosts a bunch of cool exhibits, and you sign up at the ticketing counter!
Extra Exhibits:
Have an additional fee, most are just RM2 extra. We signed up for the VR experience so we each paid RM8! (There's a timing for some exhibits so be sure to double-check before getting it)
Crowd: 
During the school holidays or during the weekend, expect many families to have fun together with you. If you like crowds and little children running about and playing with all the cool stuff, it's your perfect time.
First Stop: SCIENCE
After getting your ticket chopped, the first thing you see is a small aquarium tunnel with LOTS OF FISH. 
It's only the entrance though. 
So after that, there are a few small exhibits around for you to experiment with. Most notable is the wind simulator, where you get blown away, literally. (heh)
There's a whole bunch of exhibits here, ranging from biology to geology to chemistry to physics, and more!
Second Stop: Kids Area
Once you're done exploring the first area, you'll walk into a large hall. 
If you're lucky like us, there are even more people because there's a live demonstration going on the stage in the middle of the hall. All the kids (including us) had fun getting jumpscared by the helium balloon bursting into flames.
Upstairs:
Here are paid exhibits that you can enter and enjoy even more, like the VR or Dinosaur exhibit.
VR exhibit:
Fun if you like seeing random images being projected onto the walls. Very good sensory experience. 
There's also an interactive VR game where you challenge other folks in groups of 3 (max) to a VR dodgeball 'deathmatch'. 
You wear fancy goggles and swing your arm to shoot balls of light at your opponents! Super fun if you're a gamer with unchecked violence inside you.
(Like me carrying the whole game, our score was 22-10)
But if you didn't get the extra stuff, there are many puzzles along the corridors to twist your knickers and your brain on.
Verdict: 3/5  ⭐⭐⭐
THE DOWNSIDES?
A lot of the equipment isn't well maintained, and some are quite broken too (for who knows how long, but are we really surprised?)
The authorities are most likely not big on hygiene because there is equipment that has ropes and/or cloth, and they smell like they haven't been washed in years.
There are even a few rusted-down stuff, but that sure didn't stop folks from NOT touching them. (Hope everyone got their tetanus shot :"))
TOILET REVIEW
The toilets are decently clean and dry, thankfully.
Not really smelly, but the doors, stalls, walls and mirror look quite rundown and old. A lil bit spooky.
Verdict: 2/5  ⭐⭐
***Important thing to note:
If someone comes by with a camera to ask if they can take your picture, it's the gift shop cameraman who will sell you pics to commemorate your visit. 
If it's something you want, then strike a pose and go for it!
If not, just say no thanks and RUN.
Overall experience:
Ambience: 3/5 (Quite crowded, many things to see)
Cleanliness: 3/5 (still passable, with air purifiers installed here and there)
Maintenance: 2/5 (quite a few pieces of equipment are worn out, dirty, or broken)
Facilities: 4/5 (Lots of things to play with)
Safety: 5/5 (Quite safe, and many things are child-proof)
Total: 3.4/5⭐⭐⭐
**Tips: If you wanna play with stuff, come on over when there are no school holidays/weekends!
About Pusat Sains Negara
Pusat Sains Negara is situated atop a hill of landscaped grounds at Bukit Kiara. The centre was officially opened on 29 November 1996 by Prime Minister Mahathir Mohamad.
It was built to promote greater understanding and interest in science and technology.